Ethan's Pop Tunes Page
---
These are just a few of the original tunes I've recorded over the past few years. Most of these pieces are instrumental only, and I performed all the parts except as noted. Click an MP3 logo at the left to play them. I also did a bunch of Holiday tunes in 2004 HERE.
For those interested, my studio equipment is listed at the bottom of this page.
---
| | | |
| --- | --- | --- |
| | A Cello Rondo is my first cello performance video. If you play the cello, or if you just enjoy cello playing, I promise you will love this video. The link at left will take you to the web page for this video. | |
| Web Link | More than a year in the making, Tele-Vision is a far more ambitious project than A Cello Rondo, and it's equally entertaining. | |
| Web Link | This is the performance portion only from my 18 minute interview with Phil Cramer. Phil built the guitar he's playing, and you can see much more of his amazing handiwork in the full interview linked above. This is the only music on my site that I didn't perform and record, but it's too good not to share. | |
| | I wrote Lullaby as the sound track for my music video A Day in Litchfield County. | |
| | Like most of my tunes, the backing instruments for Gear Jammer were performed entirely on synthesizers. But the hard-driving lead guitar is 100 percent live, played on my customized 1960s Fender Telecaster. | |
| | Cello Concerto in A Minor One of my most ambitious projects ever, this concerto took me nine months to write, and another three months to typeset the score and parts. It was recorded between August and December 1998 in my home studio using live string, woodwind, and brass players. Read all about it HERE in my article from Strings Magazine. | |
| | I wrote Men At Work as the sound track for my company's video Made in Connecticut (LINK). All of the machine samples and sounds are original. | |
| | Elli's Song was written for and inspired by my wife, Elli. Besides the MIDI synth backing instruments, there's a live acoustic guitar solo and also real violins played by members of an orchestra I perform with. | |
| | Happy Go Lucky was created entirely with the fabulous DreamStation analog-style software synthesizer. If you write music using a computer, go HERE now and buy this program! | |
| | The Swan is a beautiful piece from St. Saens' Carnival of the Animals. It was originally written for cello and piano, but in this arrangement I used the haunting sound of a Theremin. This recording was created entirely using the DreamStation synthesizer. | |
| | I recorded Spunky in the late 1990s. The sampled sax solo is pretty lame, but it's a fun piece anyway. | |
| | Jungle If you like percussion instruments you'll definitely enjoy this piece. The live fiddle solo at the end is played by teenage violin virtuoso James Herstatt. | |
| | Sharp Four is named for the musical device which is used throughout the piece. The only live instrument here is the cello, on which I play an assortment of Jeff Beck-inspired noises and other musical effects. | |
| | Saturday Night is my latest string quartet, written as seven variations on an original jazz progression. This version sounds pretty good considering it's played by synthesizers, but I hope to record real players some day. If you have a quartet and want to play it, you can download a Zip file (1.2MB) with all of the parts scanned to GIF images here. | |
| | Disco Rainbow This arrangement of Over the Rainbow was done in the late '70s when I owned a professional recording studio. I'm playing Fender bass, and also the lead on a homemade synthesizer (check out the chicken clucks!); with Phil Cramer on guitars; Chris Toelken on the clavinet and, along with Barb LaValle, ending vocals; Peter Hodgson on drums; and James "Doc" Halliday playing sax. | This synthesizer took me more than a year to build (in 1974). |
| | We'll call them Disembodied Guitar Solos. Back in the 1970s I was a pretty decent guitar player, but a lot of the tunes I played on are too embrassing to post in their entirety. So here are the best 10-20 seconds from four of them. All of these tracks were recorded direct into a board I designed and built, either by distorting the board's input or through various home-made fuzz tones. | |
| | Bernhard Romberg was an 18th century cellist who also wrote many fine works. This is my arrangement of the first movement of his E Minor sonata for cello and piano, Opus 38, Number 1. But instead of a cello I'm playing the lead on electric guitar, and instead of a piano there's a rock band providing the backing! | |
| | Insaen is my pop music arrangement of St. Saens' Allegro Appassionato for cello and orchestra. Steven Thomas is the cello soloist, Rob Aries plays the keyboards, and Scott Lebish is on drums. I wrote the arrangement and played everything else. | |
| | On The Run Here's another guitar rocker played on my Fender Telecaster. It's got harmony guitar and synth leads for the verses, and a triple-tracked guitar solo. Trivia challenge: Can you tell which early Beatles song was the inspiration for this piece? | |
| | Rock Jam This hard rockin' guitar jam features two tracks of live electric guitar, plus organ licks and fills played by my good buddy, Eric Pearson, shown here. | |
| | I wrote Eth-O-Ditty in the early 1980s when I owned a professional 16-track recording studio. Bob Lavalle played the drums and I'm on the electric guitar and bass. I also played all the other parts on my homemade analog synthesizer. Read more about this synthesizer and my studio on my Music page. At the right is a fragment of the original schematic drawing I made while designing this beast. There's a photo of the synthesizer itself next to Disco Rainbow, above. | |
Technical details
Most of these tunes were sequenced years ago using Passport Design's Master Tracks Pro and Encore programs, and some of the live tracks were recorded on an Alesis ADAT digital 8-track recorder. In May 1997 I replaced the ADAT with a hard disk recording setup and IQS's SAWPlus software, which were used to record the strings on Elli's Song, the violin solo on Jungle, and my cello concerto. In 2001 I sold all my old synthesizers (eight of them!) and outboard gear, and today I do everything with just a computer, Cakewalk SONAR, and plug-in effects and soft-synths. Here's my current setup: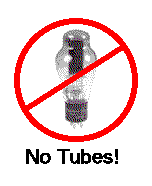 Computer: Dell XPS 8300 Core i7 at 3.4 GHz with 8 GB RAM running Windows 8 Professional 64-bit, more than 1 TB of hard drive storage, dual-layer DVD burner, and dual display monitors.
Audio hardware: Focusrite Scarlett 8i6 and M-Audio Delta 66 sound cards, Mackie 1202 and Rane MP 24 mixers.
Audio software: SONAR, Vegas Video, Encore, Sound Forge, DreamStation software synthesizer, Yamaha Visual Arranger, Jammer Professional, CD Architect, DVD Architect, UltraFunk plug-in pack, Sonic Foundry Noise Reduction, and too many other programs, plug-ins, and soft-synths to list individually.
Microphones: 1 pair AKG C-451, 1 pair audio-technica AT-4033, DPA 4090.
Mixdown monitoring is through a pair of Crown PowerBase amplifiers (1,040 watts total), driving JBL 4430 bi-amplified studio monitors, and optionally with a pair of Yamaha NS-10M bookshelf speakers powered by a Sony stereo receiver. I also have a 5.1 surround system in my living room home theater for surround mixing projects on a Dell laptop.
Acoustic Treatment is far more important than gear, and I have plenty of bass traps as well as absorption at the first reflection points on the side walls and ceiling.
You can see a brief video tour of my home studio in THIS 2.8 MB Windows Media file.
---
Visit the best Musician's Jokes Page on the web: http://www.mit.edu/people/jcb/jokes/

Entire contents of this web site Copyright © 1997- by Ethan Winer. All rights reserved.