www.ethanwiner.com - since 1997
How to Beat Telemarketers and Collect Cash
---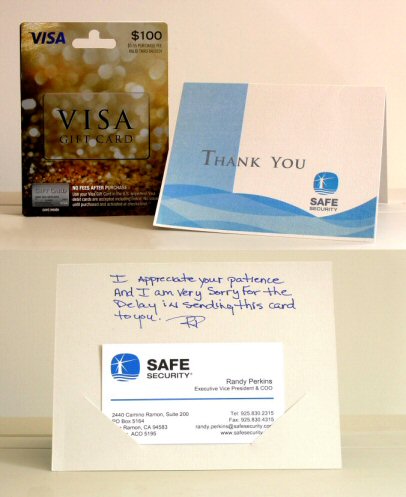 I received a $100 VISA gift card from Safe Security in San Ramon, CA after complaining that they called to sell me their alarm services.
If you're on the national Do Not Call List, this article will help you collect compensation from US companies who call you. Don't waste your time with "lower your interest rate" spammers because you'll never track them down unless you owe thousands of dollars on a credit card and tell them your card number. Same for people calling from overseas to sell you Viagra and Cialis, or callers claiming to be from "Microsoft Windows Department" hoping to trick you into installing a virus on your computer. You can't track them down, and even if you could you won't scare them with threats. However, I have so far collected $3,058 from various phone spammers including two home burglar alarm companies, a solar panel vendor, and two "alternate" electricity suppliers. I'm currently pursuing even more money from other phone spammers including a "medical benefits" company. I imagine this method works with chimney cleaners, lawn services, and other businesses that have a physical US location and are otherwise legitimate companies.
When a telemarketer calls, pretend to be interested long enough to find out who they are. Never give them your credit card number, but it's probably okay to tell them whatever else they ask such as your name and address, or ID numbers on your electric bill. After you've been on the phone with them for a while, pretend to be a little skeptical and ask if they have a web site: "You're asking for my personal information, but I have no idea who you are. I am interested! But I need to know that you're legitimate. Do you have a web site I can see?" Once you're on their web site and verify they're a real company with a Contact page, address, and phone number, that's all you need.
You can promise to call them back or just hang up, but first ask the caller for his or her name and/or ID number. Then when you call back later to demand payment you can say who called you. If they won't give you their name or agent number you can always say you asked but they refused. Many of these companies hire third-party telemarketers to make the calls, and they'll try to weasel out of responsibility saying they didn't actually call you. But that's nonsense - they are absolutely responsible for the actions of their employees and sales agents. As reported in this article, the federal government and four states sued the Dish Network TV provider for telephone spam even though in many cases they hired other companies to make the calls:
https://consumerist.com/2016/01/21/dish-network-could-pay-24b-in-fines-for-millions-of-illegal-telemarketing-calls/
And as explained in this related story, laws against robo-calling people on the Do Not Call list allow fines up to $16,000 per violation:
http://www.denverpost.com/business/ci_29403891/dish-facing-up-23-5b-fines-trial-over
Very important: Make a note of the exact time you were called. You'll be more convincing saying, "Someone from your company called me at 4:15 on April 12 trying to sell me your services." If you have Caller ID also note the name and phone number. These are often fake, but save them anyway in case you're asked for them. And note whether the caller was a recorded message or a live person. If you had to "Press 1 to speak with a live agent" the call was a robo-call which is even more illegal. Just as important, when you call the company to demand compensation, note who you spoke with, the date, and ask for the person's extension or a direct phone number in case you have to chase after them later.

I demanded and received this check from Trinity Solar after their agent Lead Genesis called me repeatedly.
Finally, call the company and ask for their Legal department. The last spammer I dealt with was an "alternate electricity" provider, and when I asked for Legal the customer service guy said he could help me. So whether you get Legal or a customer service rep, say something like this: "I'm on the Do Not Call List but your company just called me anyway. I demand compensation for being bothered and for my trouble to contact you now. If you don't pay me $250 I'll complain to the FTC and FCC, and I'll also call your local police department to file a harassment complaint. I promise you I'll make so much trouble for you and your company that you'll be very sorry. I will not go away or back down until I'm compensated." Don't expect them to agree right away and promise to pay you. More likely they'll say they have to check with their supervisor, or the company owner, and will get back to you. If you have to follow up and pester them, or explain it all again to someone else in their Legal department, you can say, "I already spoke with John Smith about this. He promised to call me back but he never did. I'm tired of having to chase you down and I want this resolved right now."
Then don't let go! If they hang up on you, call back again. (Always use their toll-free number if they have one so they'll pay for the call.) Be as forceful and aggressive as needed with the secretaries or whomever answers their phones. The first time I demanded payment from a phone spammer (Safe Security) it took more than a month of haranguing to get the $100 VISA gift card and apology shown above. Collecting from the second spammer was easier because I reduced my arguing to the script above. The second phone spammer was another alarm company, and I made a deal with their legal department: In exchange for $100 I promised not to file a formal complaint, or post their name online publicly. So you might need to sign a similar agreement to be paid. Though now I demand much more compensation and I usually get it.
If they refuse to send you compensation you should file complaints with the FTC and FCC (both agencies oversee telemarketing):
https://complaints.donotcall.gov/complaint/complaintcheck.aspx
https://consumercomplaints.fcc.gov/hc/en-us
Since you now have the company name, address, and phone number, and maybe the name and phone extension of one of their lawyers, or the company owner from their About page, your complaint will be more compelling and easier for these agencies to process. When all you have is a fake Caller ID number, they can't find and penalize the caller. After you file a complaint, continue to harass everyone you can at the company. Call them again and again. Make their life miserable. Two different people in Legal at the second company told me they won't pay, yet eventually they did because I refused to stop calling which cost them real money in wasted time of their lawyers.

I demanded and received this check from Discount Power after telling them repeatedly to stop calling me.
When you're successful in collecting payment from a phone spammer, please email me from my Home Page with the details and I'll add your story to this page.
---
March 9, 2018 update:
Connecticut Attorney John Matulis has a Saturday afternoon talk show on Hartford radio station WTIC, so I called in for his advice. He said citizens can't sue under federal law, but we can under Connecticut's Unfair Trade Practices Act (CUTPA). I put that part of John's on-air reply to me in THIS MP3 file. He suggested I sue in small claims court, which in Connecticut currently has a $5,000 maximum, asking $100 for actual damages (nuisance value plus my time to track down the spam callers) plus $4,900 in punitive damages. So when I got a robo-call in December, 2017 from an alternate electricity provider, I tracked them down and threatened to sue for $5,000 unless they compensate me. A woman in their Operations department tried to convince me that I wasn't covered by the Do Not Call law because my phone number on this personal web site is a business. When I told her this is not a business site, and I'm glad to let a judge decide, she offered me $250 which I accepted. I had to sign a non-disclosure agreement, as explained above, so the company's name is blurred out on this cashier's check I received from them:

Once I learned that Connecticut allows suing for up to $5,000, it was easy to negotiate an even higher settlement.
I don't know how other states handle this, but if you live in Connecticut you should absolutely do the same and threaten to sue for $5,000! Then when you offer to settle for $250 they'll be grateful.
April 19, 2018 update:
Now that I have a good method worked out, getting $250 is easy. When Inti Solar spammed me on behalf of Sun Power Corporation I pretended to be interested, and even applied for a credit check just to get them to reveal their identity. But there's no address on their web site, and the address on their Yelp listing is fake. According to Google Maps that address is the US Drug Enforcement Administration. So I called that DEA office and the agent who answered said the DEA occupies the entire building and there are no businesses anywhere in that building. So I looked up gointisolar.com at the Who Is Service which referred me to Who Is at GoDaddy where I found listed the site's owner, Troy Roble, along with his address and cell phone number!

I used the same threat with Troy Roble, who owns Inti Solar, and he immediately agreed to send me $250.
September 14, 2018 update: I just negotiated a $1,000 settlement from a company after I threatened to sue them for $5,000 under the Connecticut Unfair Trade Practices Act (CUTPA) mentioned above. As is common in such settlements, I'm not allowed to name the company so I can't post a photo of the check.
July 15, 2019 update: I won a Small Claims case against Alliance Security. I had sued for $5,000 citing punitive damages under CUTPA as explained above, but the judge awarded me only $500 plus court costs.
October 3, 2019 update: I convinced a local roofing contractor who spammed me to settle for $200 rather than be sued for $5,000.
October 12, 2019 update: I called the Law Talk radio show again to give them a follow-up, which you can hear in THIS audio clip.
December 5, 2019 update: I collected $200 from "medical alert device" company Q Synergy for spamming me multiple times. In order to track down these devious bastards I agreed to sign up for their monitoring service, so I gave them my credit card info knowning I could later challenge the charge successfully. When the device arrived their real company name and address was on the package, so it was easy to contact them and demand compensation.
March 3, 2020 update: As part of a class action settlement against phone spammer Alarm.com I received a check for $257.99: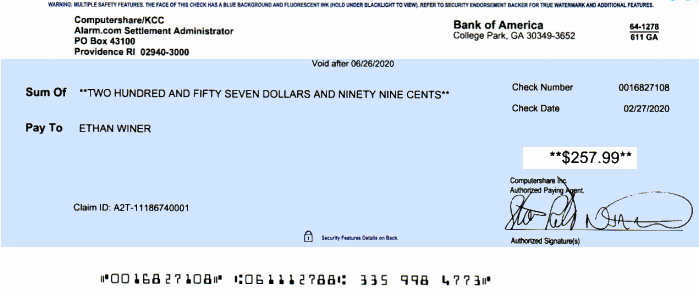 This one took nearly two years to collect on!
August 24, 2020 update: If you'd rather just avoid being bothered by these phone calls, AT&T makes a cordless phone that truly solves the problem of robo-calls. Their Smart Call Blocker feature answers a call silently and prompts callers to say their name, then press the pound (#) key. Robo dialers can't do that, so your phone doesn't even ring. A few months ago I bought two of these systems (one for my home line, one for business) for $100 each and it's been life-changing. No longer am I woken up in the morning by these jerks. They also have less expensive versions with fewer remote handsets, but be sure the get a version that include Smart Call Blocking. More info at the AT&T Phone Store.
---
Chimney Scams
Another type of phone spammer is even more dangerous because they're also criminals. I've received calls from three different chimney spammers: Shamrock Chimney, H&R Chimney, and North American Chimney. Like regular phone spammers they hide their identity when they call, then they offer a low-ball rate to clean your chimney. All three companies offered to send two guys - one on the roof and one by the furnace - to do a full inspection and cleaning for only $50. But if you Google these companies you'll hear horror stories of people being taken for thousands of dollars. From an article on the Angie's List web site:
The company contacted elderly residents and offered chimney inspections or cleaning for $50 or less, and then used scare tactics to sell unnecessary chimney liners for thousands of dollars.
She says the technician warned that her home was at immediate risk for carbon monoxide buildup, which frightened her into paying $9,400 for repairs, a chimney liner and an extra chimney vent that she later came to believe was unnecessary. She says she felt pressured to add the extra $3,800 vent to her work order when it was getting dark and the technician told her she'd be without hot water overnight if she didn't. "Bottom line: I was scammed," she says.
All the chimney companies who spammed me hide their ownership with fake addresses on their web sites. The public record for the owner of the H&R Chimney web site lists a fake person at a New Jersey address that doesn't exist. Same for North American Chimney. If you've had dealings with either of these criminal companies and know who or where they are, please email me from the link on my home page.
---
Ethan Winer has been an audio engineer and professional musician for more than 45 years, and is co-owner of RealTraps where he designs acoustic treatment products for recording studios and home listening rooms. Ethan's Cello Rondo music video has received more than 1.8 Million views on YouTube and other web sites, and his book The Audio Expert published by Focal Press is available at amazon.com and his own web site.
Entire contents of this web site Copyright © 1997- by Ethan Winer. All rights reserved.