www.ethanwiner.com - since 1997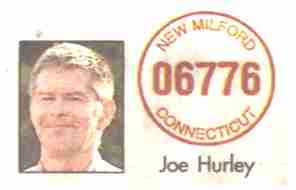 Meet Sign Man
This article first appeared in the August 8, 2000 issue of the Danbury News-Times.
---
Who's that up in the sky?
Is it a bird?
Is it a plane?
Nooooo.
It's Sign Man.
Perched on his sturdy ladder, Sign Man rids the world of nasty business signs attached to telephone poles, stop signs and other inappropriate places.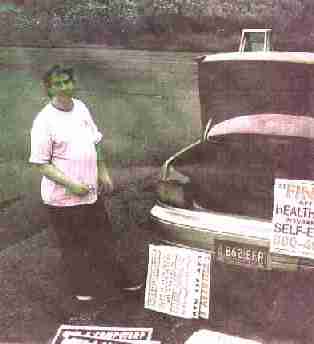 Sign Man (whose secret identity is Ethan Winer of New Milford) is an ordinary guy who's simply had enough visual pollution.
Two months ago, he contacted local authorities in several communities and, when no one said, "don't do it," he began removing signs from the public right of way. In just a few weeks he's removed dozens of signs - and he feels great.
"I really feel I'm doing something useful," Ethan said, after he hauled down an 8-foot-high sign from a pole in Bethel last week. He carries a step ladder and tools to remove nails, staples and wire. And when he's done, he keeps the signs. There are more than 120 in his collection to date. [As of January 11, 2003 I have removed more than 4300 signs. --EW]
Is it really legal? "The signs don't belong there in the first place. In a way he's providing a public service," Danbury Police spokesman Lt. Arthur Sullo said. Sullo said state law prohibits posting signs on utility poles.
But Daniel Casagrande, Danbury Corporation Council, said that job should be left for city workers. "I can't tell you it's legal to take signs off public property," he said. On the other hand, even Casagrande doesn't expect anyone to complain.
To Ethan, the signs symbolize the growth of intrusive advertising of all sorts. Endless commercials, junk mail, telemarketers. "It really is pollution: audio pollution, video pollution, visual pollution," he said.
This is coming from someone who's placed a fair share of ads in magazines when he owned Crescent Software in Redding. He also owned a music studio which produced jingles for corporations like Aetna, Pitney Bowes, Stanley Tools and the state lottery.
"I'm a business person, I'm not opposed to ads," said Ethan, who's now retired. But he added that some people carry ads to an extreme. And the illegally posted roadside signs for money-making businesses are at the top of Ethan's list.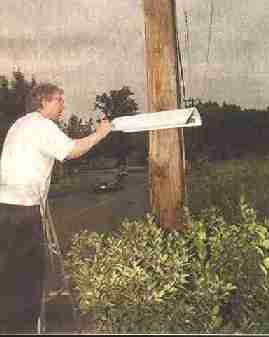 He doesn't take down tag sale signs because they'll eventually fall down on their own and they're the handiwork of local people. But the plastic business signs, anchored by nails, will stay indefinitely, Ethan said, adding that most of them are from out of state companies.
Many of them have 800 numbers for contacts. 06776 called a few of them and got nothing more than recorded messages. Here's a sample.

"Work at Home. $1,000-$5,000 PT/FT monthly" was selling a "decision package" for $36.

"Own A Computer? Put it to Work" was selling a "decision package" for $39. This company also had a professional-looking website. It boasted that it was a major corporation, but we couldn't find the corporation's name or address on the site.

"29 people wanted to get paid to lose up to 30 pounds" had a local contact number. It offered all-natural pills and said customers would get paid when they call in their weight loss weekly.
Ethan doesn't plan to make a career out of removing illegal signs. In a few weeks, he'll go back to his already full life of composing and playing music.
He's the principal cellist in the Danbury Community Orchestra and a member of the Danbury Symphony Orchestra. A number of musical groups have played his compositions, including his popular "A Day in the Life of a Cat Named Bear," a suite with eight short themes.
And he has a message for candidates in the fall elections - he hates roadsides littered with political signs.
Hates them enough to bring Sign Man out of retirement if the politicians don't behave themselves.
---
06776 is a picture of New Milford drawn from everyday people and places. Contact Joe Hurley at 45B Main St., New Milford 06776 or call (860)354-2274.
---
Note from EW: Recently a local evangelist has been littering our roadways with promotional signs, which of course I've been removing. The Danbury News-Times has a call-in column called Whaddya Say, I guess for people who are too lazy or too illiterate to write a letter. Following is an amusing exchange I clipped during the last week in May, 2001. First someone complained about me taking the signs, so I called in a rebuttal. Then someone else joined the action, and...

---
Added March 28, 2003: After nearly three years of removing signs I had saved more than 4300, and the time came to throw them out. [Update: As of July 22, 2010 I have taken down more than 5000 signs.] Here's just a part of my garage, filled with signs everywhere except a small space to park my car: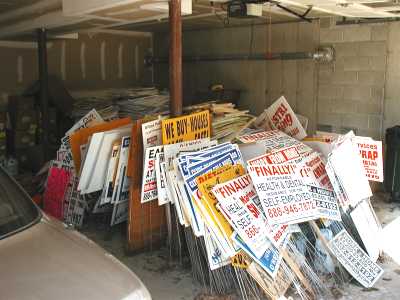 It took me an entire afternoon, but I filled a large (12 yard capacity) dumpster to the brim: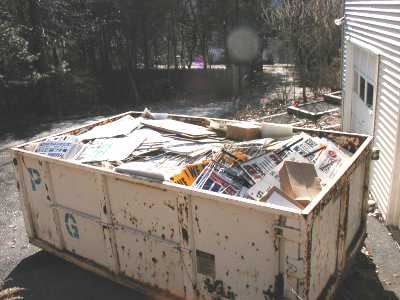 Now I can start a new collection all over again!
Entire contents of this web site Copyright © 1997- by Ethan Winer. All rights reserved.