WON'T ALL THAT ABSORPTION MAKE MY ROOM TOO DEAD SOUNDING?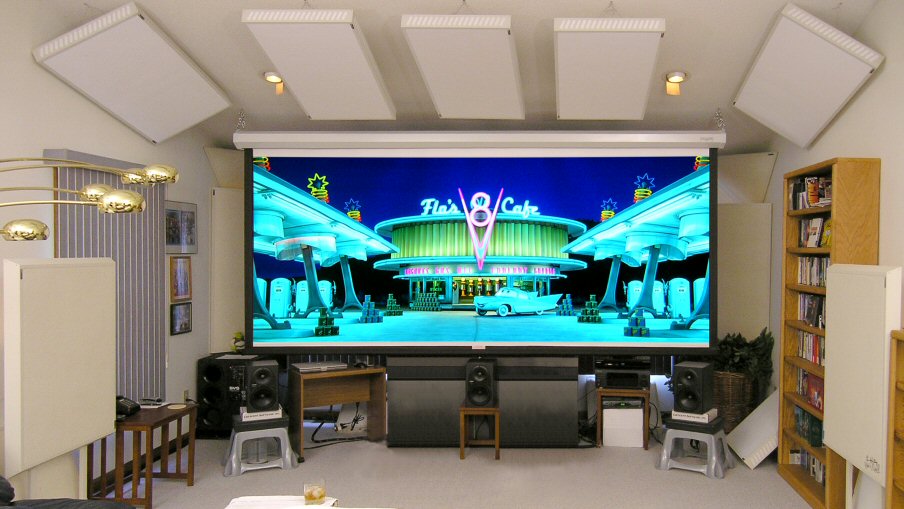 Acoustic Panels in Ethan Winer's Living Room
(Click the image above to see it full size.)
11 pcs.
3 pcs.
11 pcs.
2 pcs.
8 pcs.
2 pcs.
2 pcs.
4 pcs.
1 pc.
2x4 foot MiniTraps at 8 square feet each = 88 square feet
2x4 foot HF MiniTraps at 8 square feet each = 24 square feet
2x2 foot MiniTraps at 4 square feet each = 44 square feet
MondoTraps at 9.5 square feet each = 19 square feet
MegaTraps at 5.6 square feet each = 45 square feet
RFZ Panels at 9.3 square feet each = 19 square feet
Tri-Corner Panels at 3 square feet each = 6 square feet
Diffusers at 8 square feet each = 32 square feet
Planter Bass Trap at about 3 square feet = 3 square feet
Total square footage of 44 acoustic panels = 280 square feet
Behind two of the diffusers in the back of the room (not shown) are a MondoTrap and a MiniTrap, and behind that is a fireplace stuffed with fluffy fiberglass. But those just add extra bass trapping, and don't increase the room's treated surface area.
The room is 25 feet 6 inches front to back, by 15 feet 8 inches wide, with an angled ceiling that averages 9.5 feet high. So the total square footage is:
Floor and ceiling each 398 square feet = 796 square feet
Front and rear walls each 148 square feet = 296 square feet
Left and right side walls each 242 square feet = 484 square feet
Total room surface area is 1,576 square feet.
Therefore, less than 18 percent of the room's total surface is covered with panels.
I believe the notion "I don't want a dead sounding room" is mostly misguided. I have 44 acoustic panels in my living room at left, and it's not at all too dead sounding. This room is 25 feet front to back by 16 feet wide, and the ceiling is 8 feet high at the front and rear with an 11 foot peak halfway back. Now, many of these panels are bass traps with a semi-reflective surface to reduce absorption at higher frequencies. But there's still a fair amount of broadband absorption in this room, and the sound is exceptionally full, clear, and coherent. The room is not at all dead sounding, and conversation sounds absolutely normal.
When this came up in a hi-fi forum, I created the list of panels in my living room shown at left. As you can see, all those panels account for less than 18 percent of the total room surface. Anyone near me in western Connecticut is welcome to arrange a visit to hear the value of this amount of acoustic treatment.
MUSICAL TASTE AND SOPHISTICATION
This next part might seem offensive and condescending, but I assure you that's not my intent. I'm convinced that most professional recording and mixing engineers have better "learned hearing acuity" than the general population, and many probably have more refined musical taste as well. I mention "professional" listeners because I believe they have a better grasp on quality and clarity, and can more readily identify when something sounds "better" versus merely different. Many audiophiles also have very good auditory taste. Of course, taste is subjective so this is just my opinion.
When mixing music you need to hear everything as clearly as possible. If music or dialog is obscured by reflections and other room anomalies, mixes you think sound good may not sound so good later, or in your car, or through other playback systems. When reflections are allowed, moving your head even an inch or two changes the tonality due to comb filtering, as shown in THIS article. When listening without early reflections, imaging and frequency response are more stable versus position, making it easier to nail down a pleasing mix. Good imaging requires each ear to hear the sound as coming from the left or right speakers. When sound from the left speaker bounces off the right wall into your right ear, that confuses the source location.
Over time mix engineers learn to appreciate things that affect clarity, and avoiding early reflections is one of these things. Mixing in a reflection-free environment also lets you hear much smaller changes in applied reverb and EQ. Even at my age (67 in 2015) I can easily hear EQ changes of half a dB at midrange frequencies through my two music systems.
Related, I played the guitar professionally for most of my adult life, but a few months after I started playing the cello in my 40s I realized my sense of pitch had improved. Now, if a note's pitch is off by even 5 cents (1/20th of a half step) I can tell. Compare that to the general public who votes for American Idol contestants who are sometimes horribly out of tune!
I'm convinced that people who prefer the sound of early reflections in a smallish room would probably change their opinions if they were exposed to better listening environments. It can take a while for the improvement to reveal itself, so some people might not immediately notice, or might think the difference is worse because they're not used to it. But I believe most people would come to appreciate the improved sound within a few days after adding reflection absorbers to their listening room.
In hi-fi and home theater forums it's common for someone to ask if they'll benefit from absorbing early reflections. I always suggest they hang folded-over bath towels on the side walls with masking tape to see if they hear an improvement. Towels aren't as good as real acoustic panels that absorb a wider range of frequencies. But it's an easy test to try, and you can get proper panels if you like what you hear.