| | |
| --- | --- |
| Play Concerto | |
| MP3 file (23 MB) | This is the 2020 re-mix of the recording made in my home studio in 1999 |
| YouTube Link | This video version features scrolling music, for fun following along. |
| Download Sheet Music | |
| Zip file (2.2 MB) | This holds a PDF file of the complete printed score |
| Zip file (620 KB) | This holds a PDF file of the printed solo cello part |
| Zip file (6.4 MB) | This holds a PDF file of the rest of the printed orchestra parts |
| Download Audio Sources | |
| Link file (1 GB) | This links to a Zip file with all of the track Wave files |
| Link to Cambridge site | This audio forum lets you upload your mix for others to hear |
| Zip file (19 KB) | Project files for Pro Tools |
| Zip file (508 KB) | Project files for Logic |
| Zip file (18 KB) | Project files for SONAR 8 |
| Zip file (65 KB) | Project files for Cakewalk by BandLab |
| Zip file (408 KB) | Project files for Cubase |
| Zip file (5 KB) | Project files for Reaper |
| Zip file (49 KB) | Project files for Ableton Live |
| Zip file (19 KB) | Project files for Studio One 4 |
---
Writing a Romantic Cello Concerto in 1998, article from Strings Magazine May, 1999
My musician friends expressed concern when I told them I was writing a cello concerto in the romantic style. For reasons I can't understand, many players and composers these days have abandoned traditional musical values in favor of pieces that change meter every third measure, or contain excessive dissonance that never resolves. Perhaps I'm just stuck in the 19th century, but I greatly prefer music that has a melody and harmony, and strives for beauty rather than shock or sound effects.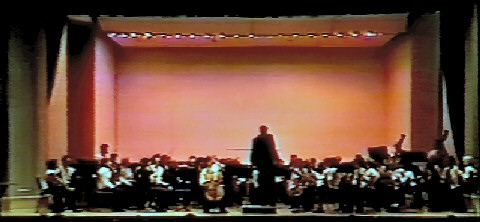 Ethan performing with the Danbury Community Orchestra in 1999.
The occasion for this concerto, which is written as one long movement, was my debut as a soloist. In seven years of playing the cello I have performed many short works at recitals but never a real concerto with full orchestra. I had written two other pieces - one has been performed by four different area orchestras - and I decided that, if nothing else, it would be a lot more rewarding to play my own concerto than a piece from the standard literature. The biggest problem was to write something with sufficient musical value, yet not so difficult that I couldn't play it myself! What began as a fun project turned into nine long months of composing, plus considerable effort to typeset the score and 26 parts.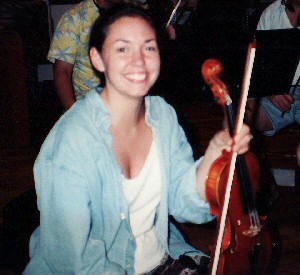 Alison Breisler at the violins recording session.
Like many composers today, I use an electronic keyboard and MIDI sequencer program to record each part. Once the notes are in the computer, it is simple to change the melody or harmony, or try a passage an octave higher or lower, or maybe move a line from the flutes to the oboes to see which sounds better. It is indeed wonderful to be able to hear a perfect performance of a work in progress without the expense of hiring an orchestra. Synthesizers are always in tune, and they never miss an entrance. Further, all modern sequencers can export the notes into a music typesetting program (though you still have to add the slurs, bowings, and dynamic markings, and plan the page turns). This ensures that the notes you wrote make it to the score and parts without any errors. The inevitable downside, however, is that a performance by an orchestra of synthesizers sounds decidedly phony. When I played my finished concerto for a violinist friend, his first comment was, "Nice job. Was that supposed to be a French horn?" At that moment it became painfully obvious that I would need a real recording with live musicians if I ever hoped to convince a record company or well-known cellist that my concerto has merit.
My first thought was to hire a professional orchestra. Let's see, a conductor and a soloist, plus 60 musicians at maybe $120 each comes to...oops! Then I considered recording one of the local groups I play with. But it seemed unlikely that a bunch of mostly amateur players and students could get through this fairly complex piece without any major gaffs. My solution was to get the few best amateur players I know - plus some pros who owed me a favor - and record them one by one (woodwinds and brass) and in groups (strings), and mix the performances on my computer-based audio recording system. By recording the players separately, I could focus on each part and redo passages on the spot as needed. A lot of nonclassical music is recorded using overdubs, and I'm happy to report that this method was equally successful for recording my concerto. Nobody is likely to confuse my "virtual orchestra" with the New York Philharmonic, nor my amateur playing with that of an accomplished cellist, but the performances are real and the musical intent shines through clearly. Equally important, using friends and accomplished amateurs let me record the entire project for only a few hundred dollars.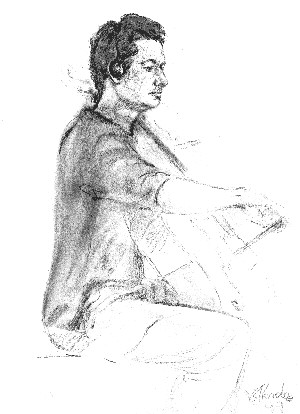 This charcoal drawing of Steven Thomas was made by Glaucia Prado-Thomas as he recorded the cello solo at my studio.
Each part was recorded in a separate session in my acoustically designed home studio. For maximum quality and realism, I recorded the players in stereo using professional-quality microphones. The musicians all wore earphones and played along with the original synthesizer version of the piece. There were a few passages that rushed or dragged a little, made worse by their having to follow the existing music aurally as opposed to watching a conductor. Fortunately, the players rushed and dragged as a group, and during editing I was able to slide phrases and even individual notes forward or back in time a few milliseconds here or there as necessary. I use the SAW Plus computer-based multitrack recording software, which makes detailed sound manipulation like this very easy. It was also simple to raise and lower the volume in places to enhance crescendos, and tone down a few passages that were played with a bit too much enthusiasm. For the occasional out-of-tune notes, I used the pitch correction feature of Sound Forge 4.5, another excellent audio editor program. With Sound Forge you can adjust the pitch of a single note or an entire passage in a computer audio file, to make the intonation exactly correct but without affecting the musical timing.
Performance Notes
I have tried to make my intent for fingerings and phrasing as clear as possible in the printed music, including alternate fingerings where appropriate. Several of my teachers and friends contributed to the fingerings and bowings, including Steven Thomas, Kate Dillingham, Andy Salvo, and Andy Woodruff. A few additional points are worth noting.
1) In several places there are notes with legato lines that should not only be played longer than normal, but should also begin slightly early to give an added emphasis. The pickup note into section "C" is one such example, as are the pickups to "I" and "P" and the entrance at "D."
2) The 8va option in section "G" sounds much higher than the clarinet line that precedes it, but if you can pull it off it should sound terrific in that register.
3) The Animato section starting at "T" should be played as fast you can reasonably handle, in much the same spirit as the third movement of the Haydn C Major concerto. The orchestra is pretty much coasting there, though bear in mind that the solo oboe doubles the cello in "U" and must be able to keep up.
4) There are two places in the cadenza that a slight pause will give a nice added emphasis just before the changes in tonality. One place is the G# in measure 30, which should be held a bit longer than normal. The other is the middle of measure 43, where you could hold the G slightly before playing the Ab that follows.
Finally, you may be amused to know that I hid a little love message to my wife as Morse code, which is embedded in the rhythm played by the brass and strings in measure 296. After all, this is a Romantic piece!
Ethan Winer is a reformed rock 'n' roll guitarist who started playing the cello in 1992 at the tender age of 43. He produced the "Cello Master Class" videos featuring Bernard Greenhouse and also four cello CDs for Music Minus One. Ethan has, at various times, earned a living as a studio musician, computer programmer, audio engineer, composer/arranger, and technical writer. He lives in New Milford, Connecticut, and plays the cello in the Danbury Symphony Orchestra.
This article appears in the May 1999 issue of Strings Magazine, a most worthwhile publication for all string players. For information or to subscribe visit their web site at stringsmagazine.com.